The cioch nose in applecross was first climbed by tom patey and chris bonnington in 1960. Patey called it "the diff to end all diffs". Fast forward sixty-one years, and I was trying to think of something special to do on the final day of 2021.
A turbulent year for many, it felt fitting to end it with a literal and metaphorical high. Given that the snow had all-but disappeared, the Cioch Nose seemed like a fittingly prodigious challenge. It's not every year that you can climb a 6-pitch 'Classic Rock' mountain route in December.
"IT'S NOT EVERY YEAR THAT YOU CAN CLIMB A 6-PITCH 'CLASSIC ROCK' MOUNTAIN ROUTE IN DECEMBER."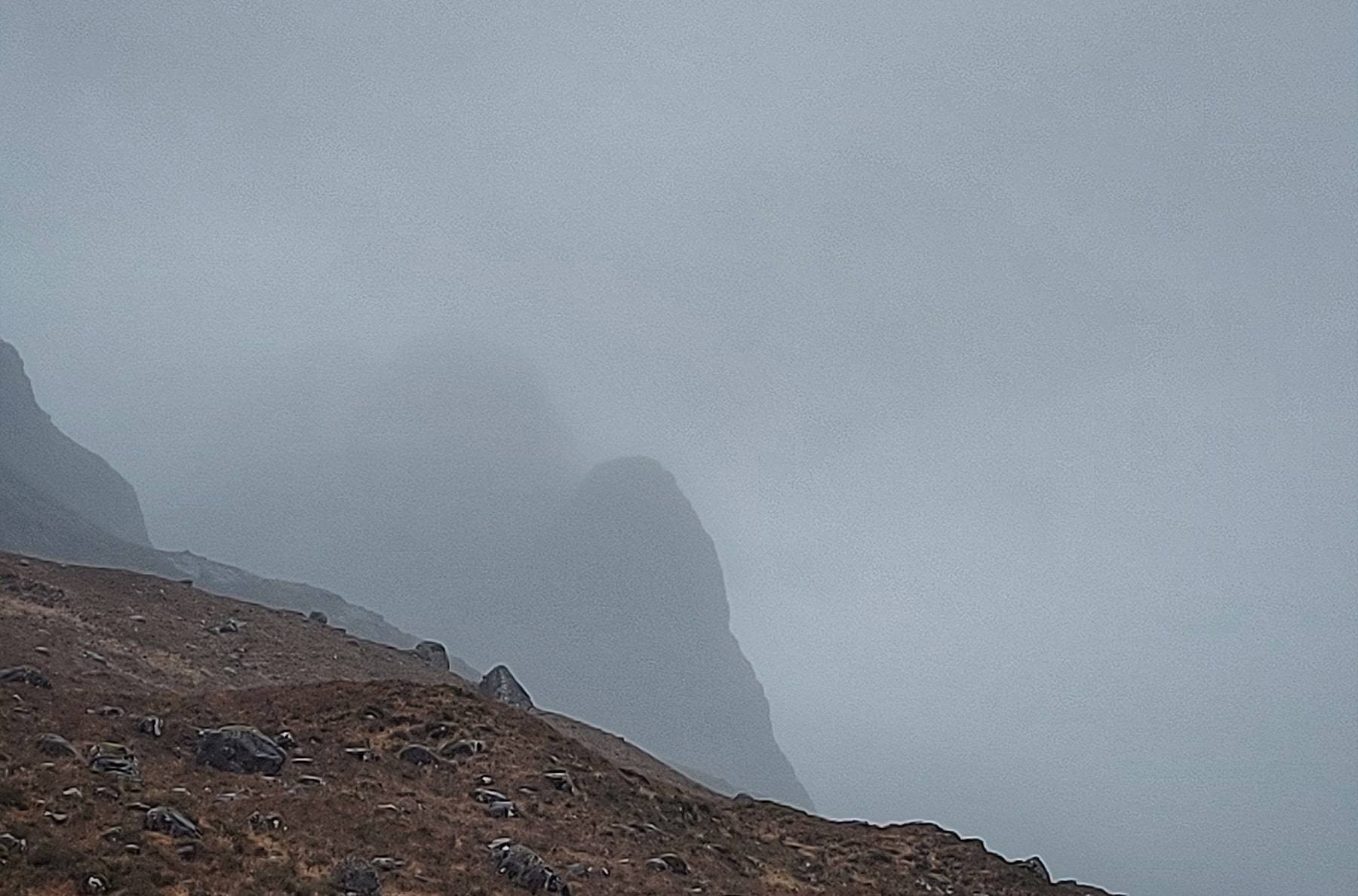 "IT'S NOT EVERY YEAR THAT YOU CAN CLIMB A 6-PITCH 'CLASSIC ROCK' MOUNTAIN ROUTE IN DECEMBER."
I have climbed the route before in glorious summer sunshine. I have paradisiacal memories of padding upwards on warm grippy sandstone. But now, on 31st December, the temperature was scarcely above zero degrees. Our weather window was short and marginal, with heavy rain forecast by midday. With a sunrise time of 9am, we were obliged to start in the dark.
One of the many special things about the Cioch Nose is that you can reverse the usual rhythm of climbing. Instead of a long walk out at the end of the day, you can actually park your car on a high mountain pass, descend to the base of the route, and top-out close to your car. This strategy also meant that we could do a brief morning appraisal of the high up snow conditions - we had brought our axes and crampons in case of lingering snow.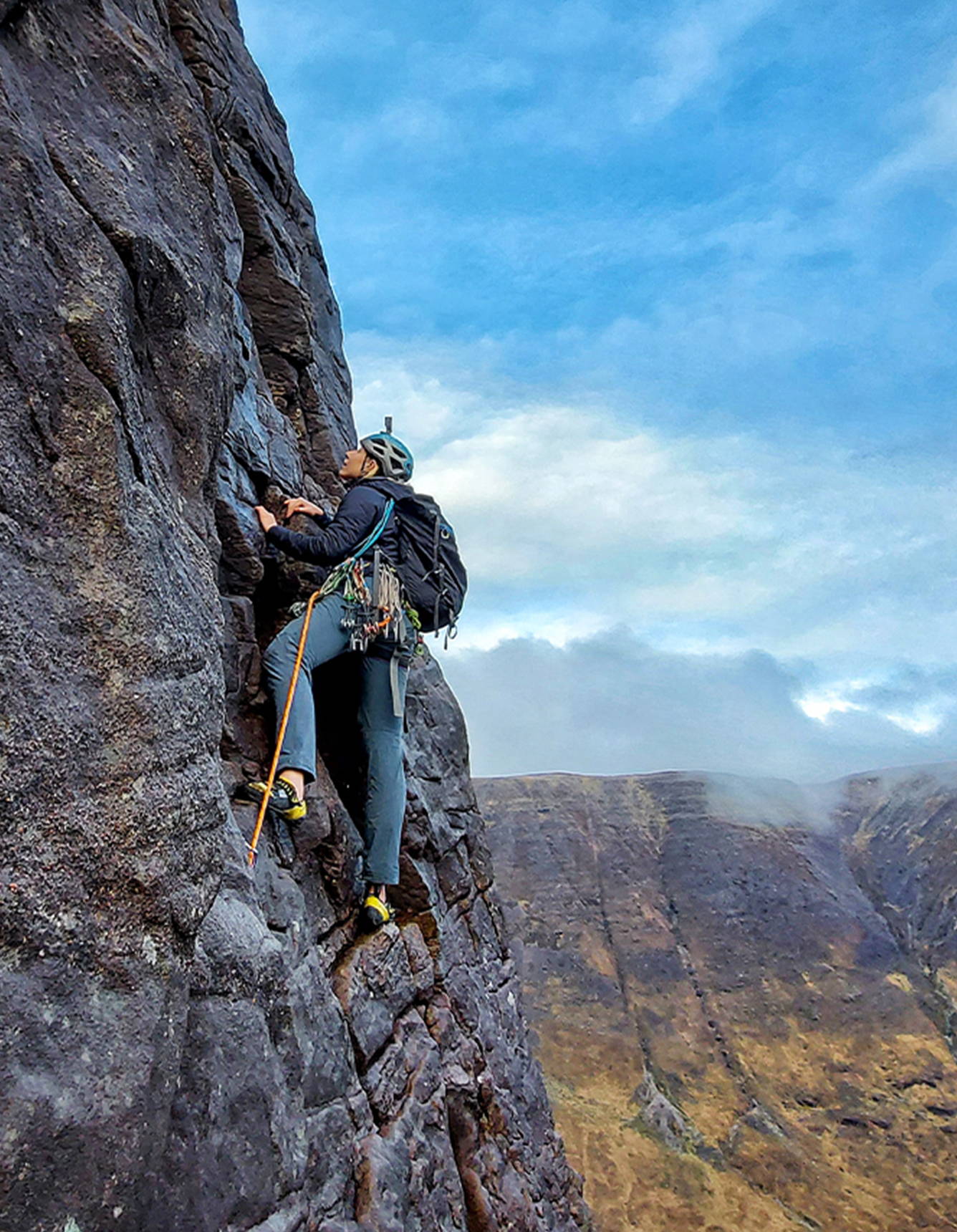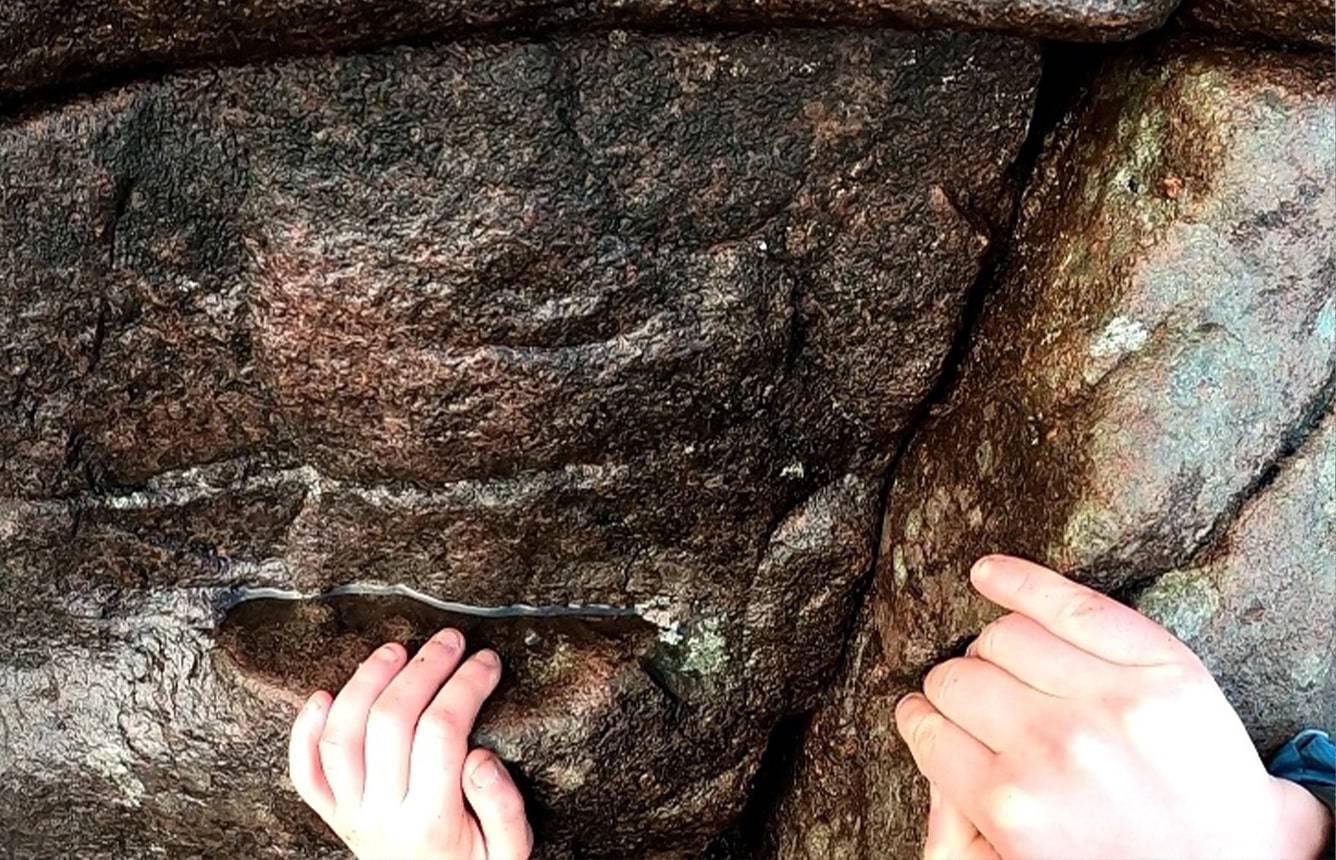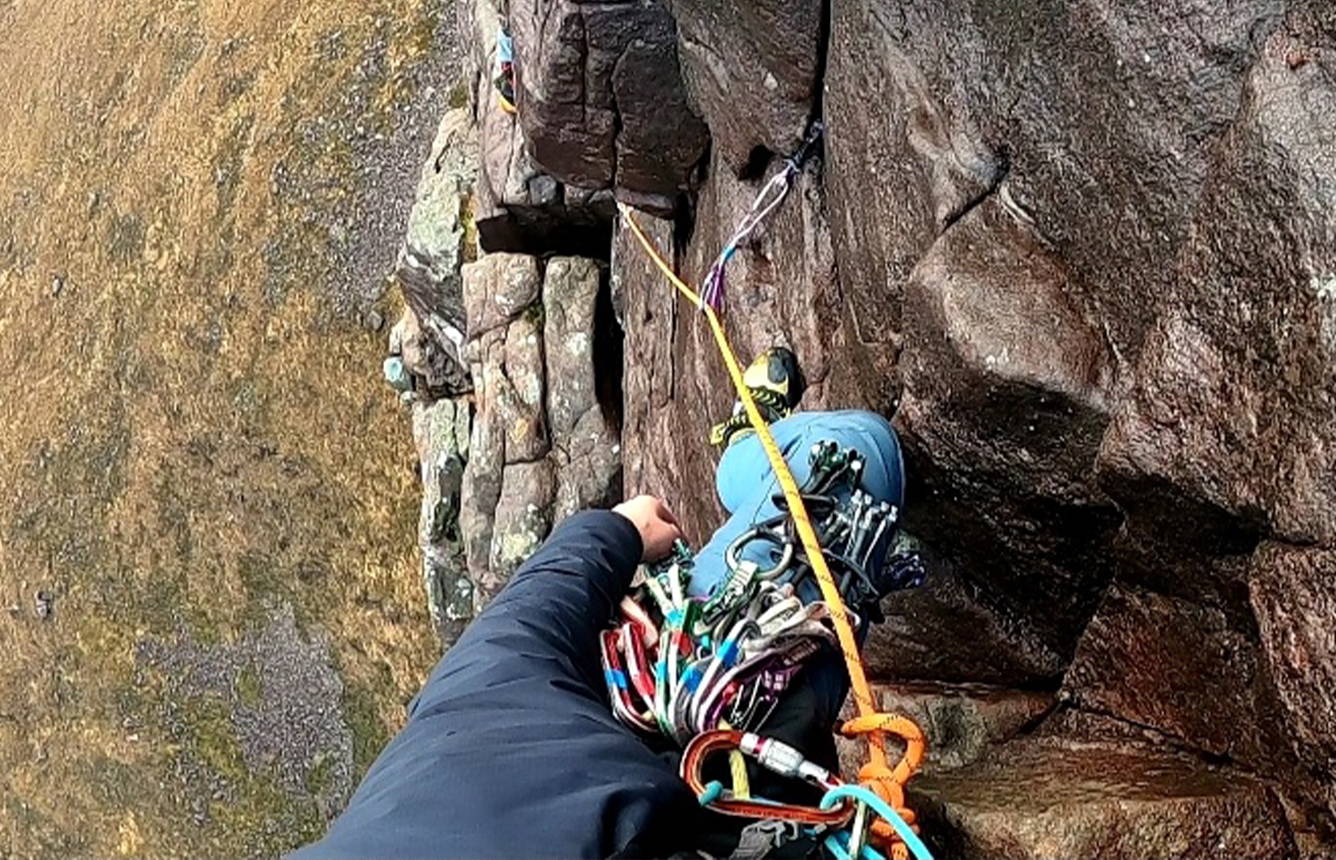 After descending Coire a' Chaorachain we arrived at the base of the climb as the sun began to rise. A narrow path traverses below the main cliff, forming a precarious ledge above a lower buttress. This dramatic position sets the scene fittingly for the day; abounding exposure with extraordinary views. The cloud was high above the tops and we could see for miles, the stunning West Coast landscape stretching out before us. As we stepped into our harnesses, we could see that the entire rock face was dripping wet. We knew we were in for an adventure.
We had initially planned to climb in approach shoes, given the relatively easy grade of the route. I was now epically grateful for my last-minute decision to pack my rock climbing shoes, as I began moving delicately up the slippery sandstone. My partner Matt was deeply regretting his decision to wear B3 mountain boots, as he groveled his way up behind me. And so it was decided that I would have to lead every pitch, padding faithfully upwards in my climbing shoes, grateful for the minimal friction which prevailed despite the damp slopey rock.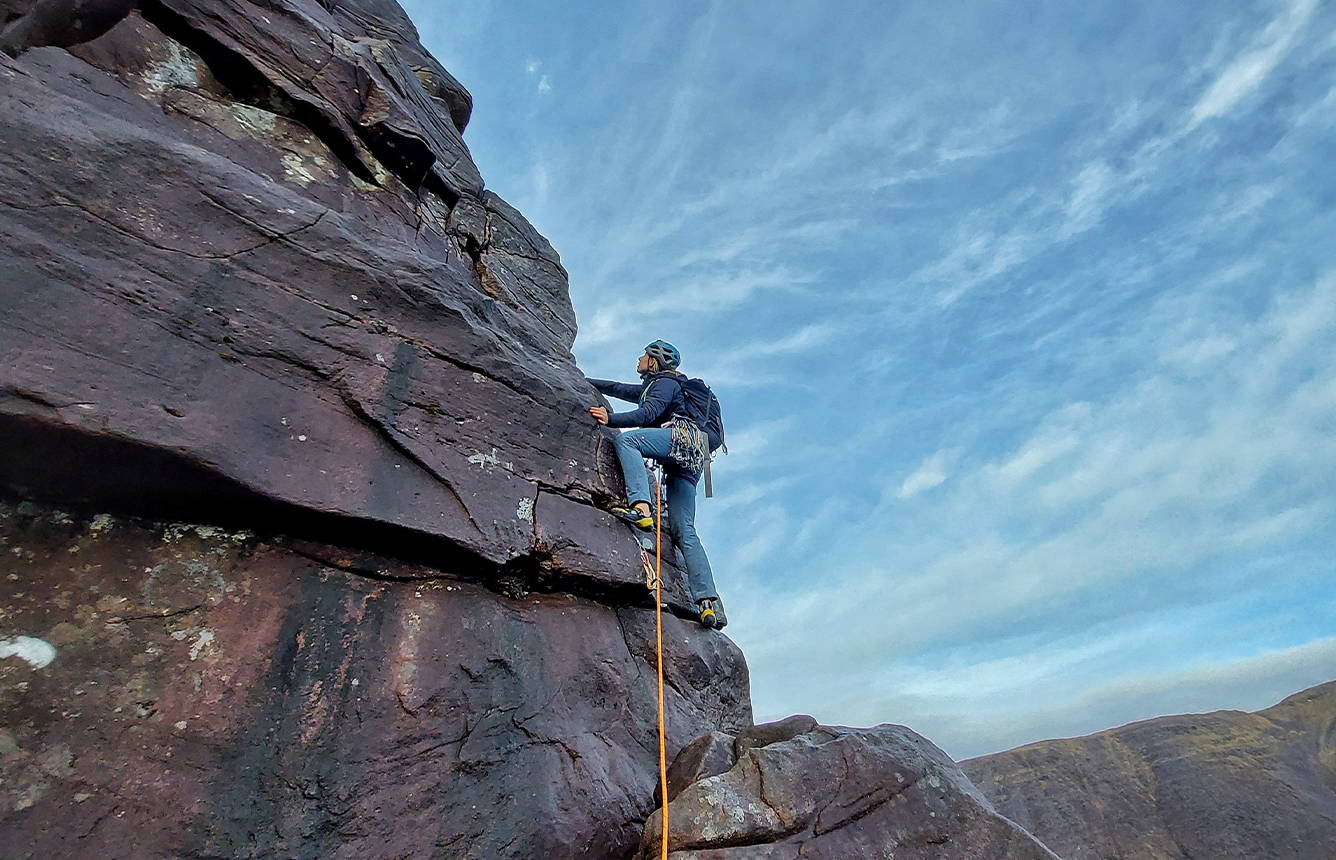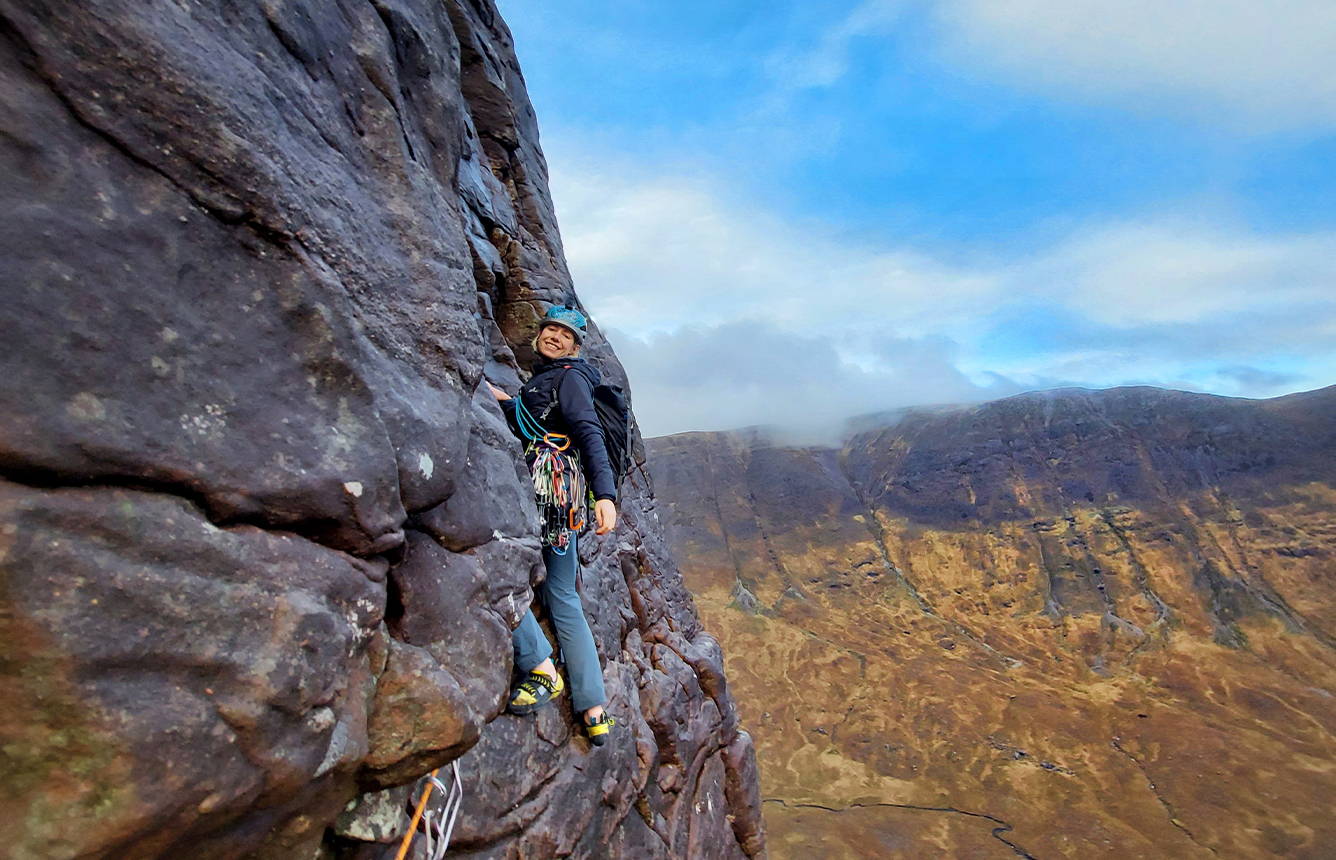 The route soars upwards for one hundred and thirty-five meters, carving a surprisingly amenable line up an improbable looking cliff face. The climb felt entirely different to my previous ascent, with the cold wet conditions demanding a heightened level of skill and attention. I enjoyed the added dimension of challenge, the need to be hyper-aware of every body position and every movement whilst dancing carefully upwards. Wriggling up slimy grooves and crimping earnestly into puddles of water, whilst the exposure grew wilder and rainclouds gathered overhead.
A few hours later we reached the top of our climb, yet the ridgeline continued with drama and interest all the way towards the summit of Sgurr a' Chaorachain. The clouds were closing in as we pushed onwards, racing the impending rain. Finally, we arrived at the huge television mast which we had passed that morning, thus marking the completion of our circular adventure and our return to an easy track.
"WE WERE EXCITED AND READY FOR EVERYTHING THAT 2022 HAD TO OFFER."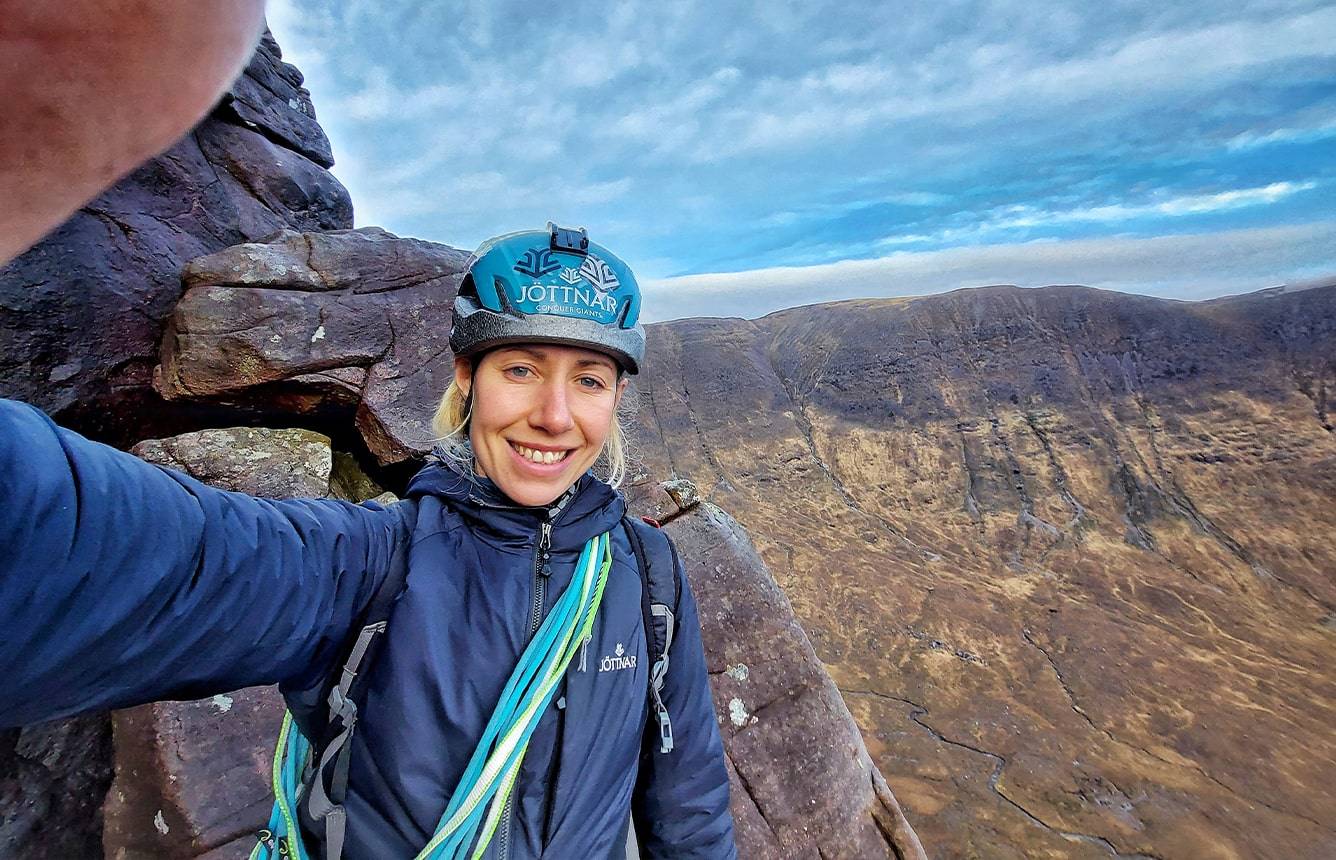 "WE WERE EXCITED AND READY FOR EVERYTHING THAT 2022 HAD TO OFFER."
Strolling gently back to the car, I was filled with a great sense of stillness and satisfaction. It had been a fun, challenging and unusual way to end an equally fun, challenging and unusual year. Just as we reached the car, the rain began to fall. As we drove back down the mountain, the deluge lashed against the windscreen. But soon we dropped below the clouds, and in the distance, we could see the warm lights of Lochcarron with the open sea beyond. We were excited and ready for everything that 2022 had to offer.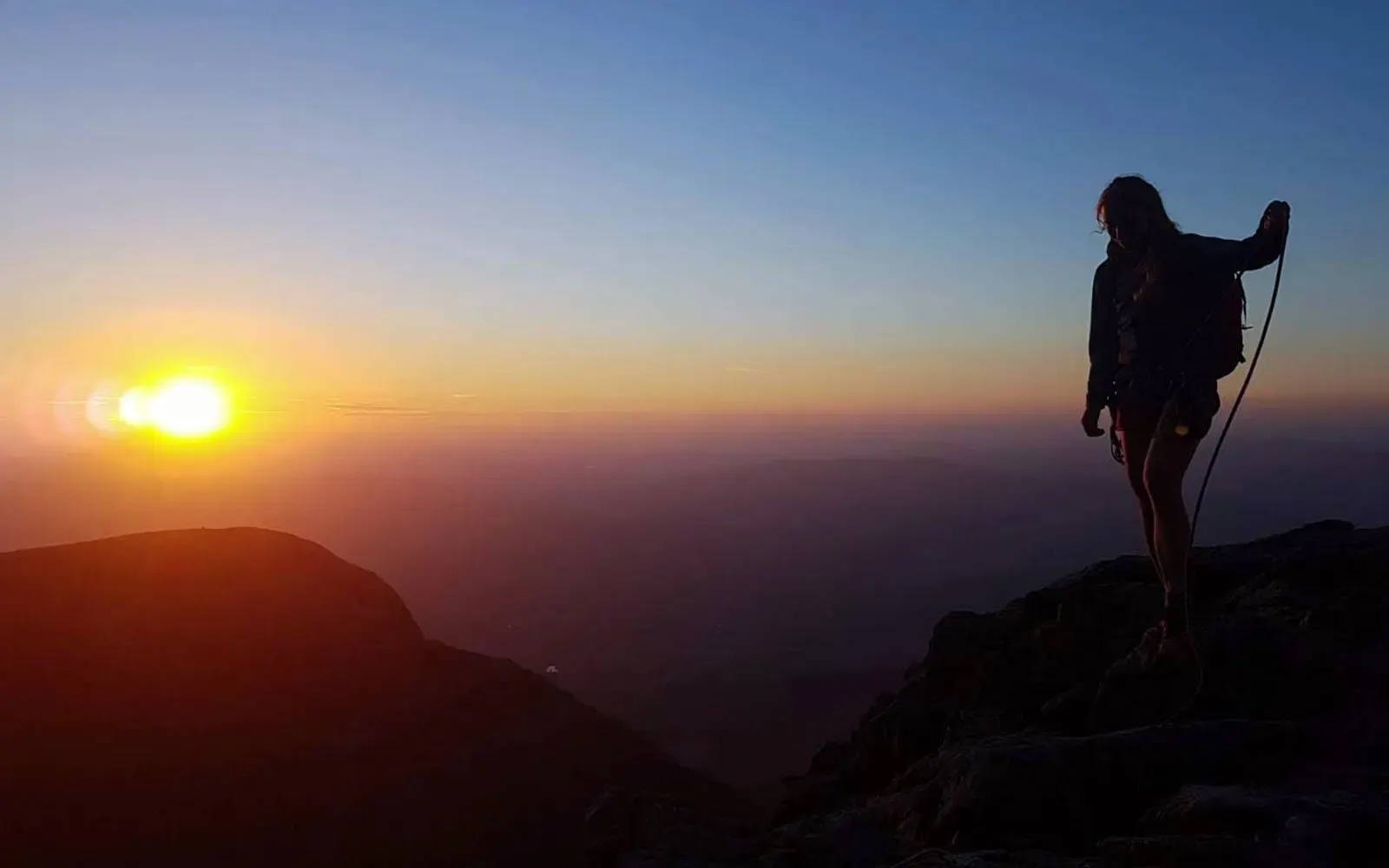 FIVE BEN NEVIS RIDGES IN A DAY
"A super-sized playground, with limitless potential for scrambling, rock climbing and ice climbing."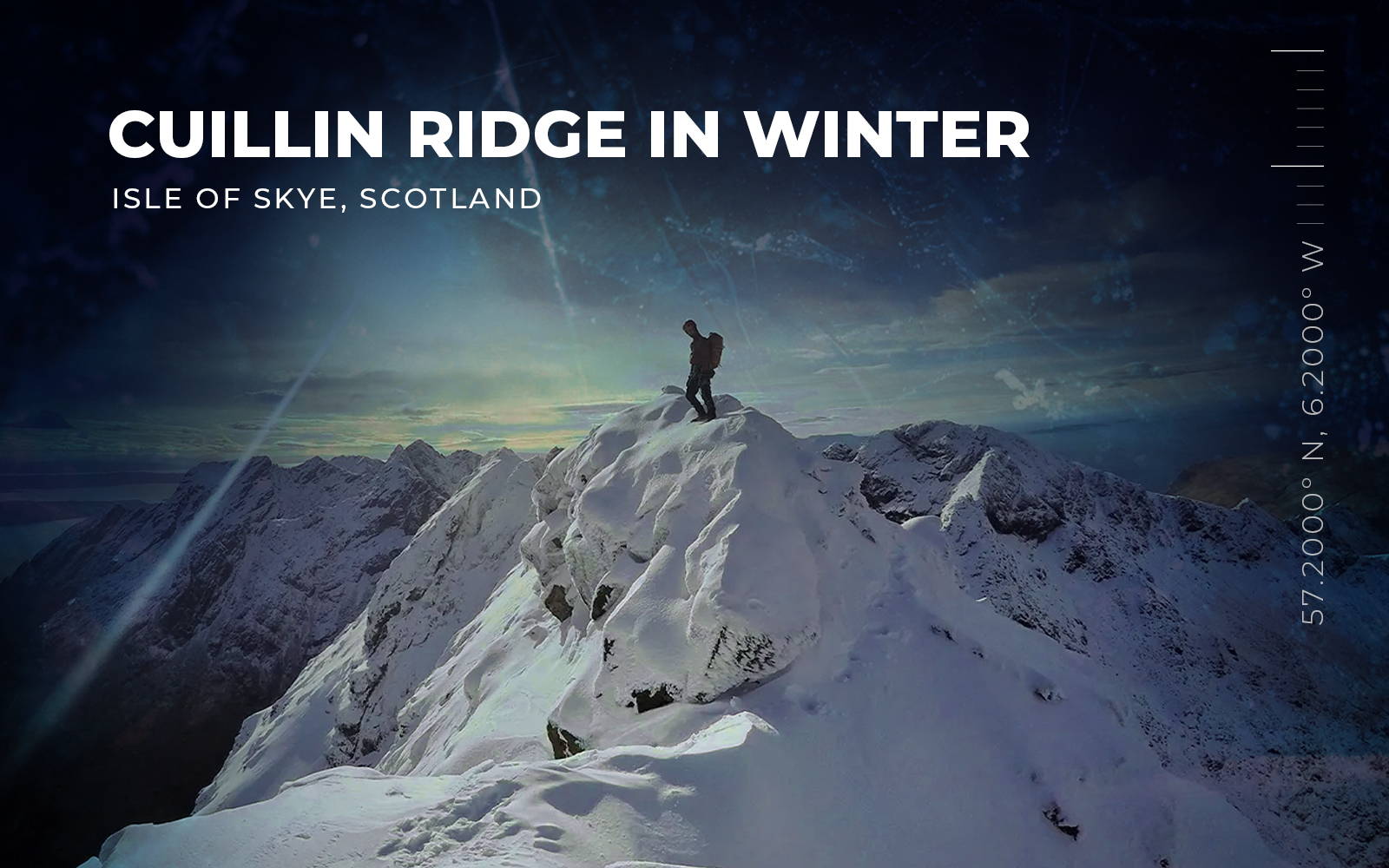 "An enigma of knife edge ridges unlocked by complex route finding."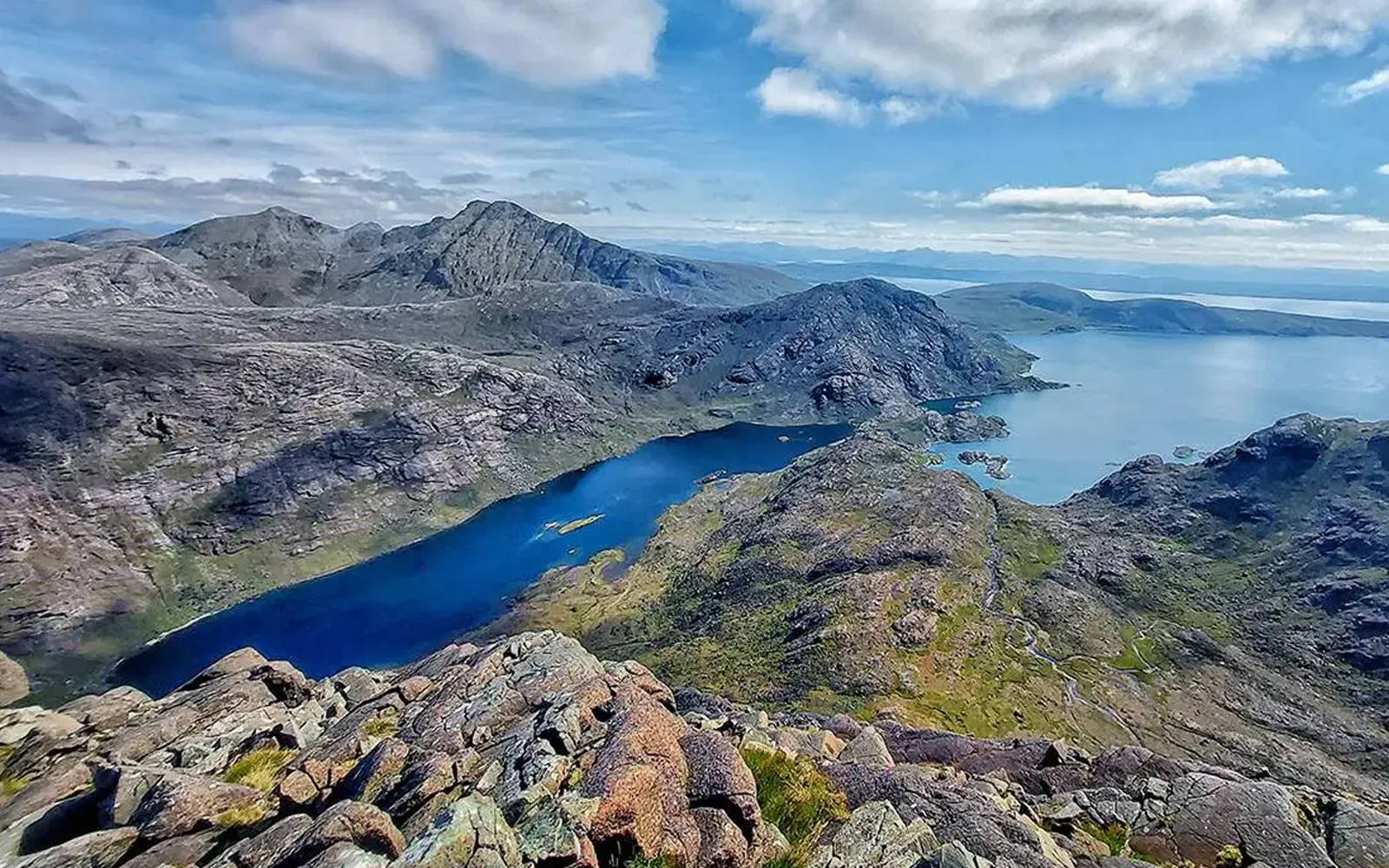 "The idea of spontaneously choosing a route rather than sticking to designated circuits and paths well-trodden."