Ski touring can be a challenging activity to layer for, as it features a blend of highly aerobic uphill skinning followed by stationary transitions, and finally a descent where windchill can become a factor. Preventing overheating is crucial, as staying dry is a major factor in keeping warm. Skinning uphill is hard work, and it is easy to become hot and sweaty - and then cold later on.
Base layers:
These are the foundation of your clothing system, and have two main jobs: to provide some insulation, and to wick any sweat off your skin to keep you dry and comfortable. These can be made from either synthetic or natural materials (such as merino wool). Synthetic base layers (such as the Erling) can have better wicking properties, and are a little quicker to dry. Merino wool (such as our Hamr and Heimdall), on the other hand, has more odour resistance, and it also boasts better temperature regulation, ensuring that you neither overheat or cool too quickly.  However, due to the increased likelihood of perspiring during the uphill sections of a ski tour, synthetic base layers are often a more comfortable option, especially due to their wicking properties and quick drying times. Base layer leggings are often a matter of preference, but in extremely low temperatures they will increase comfort.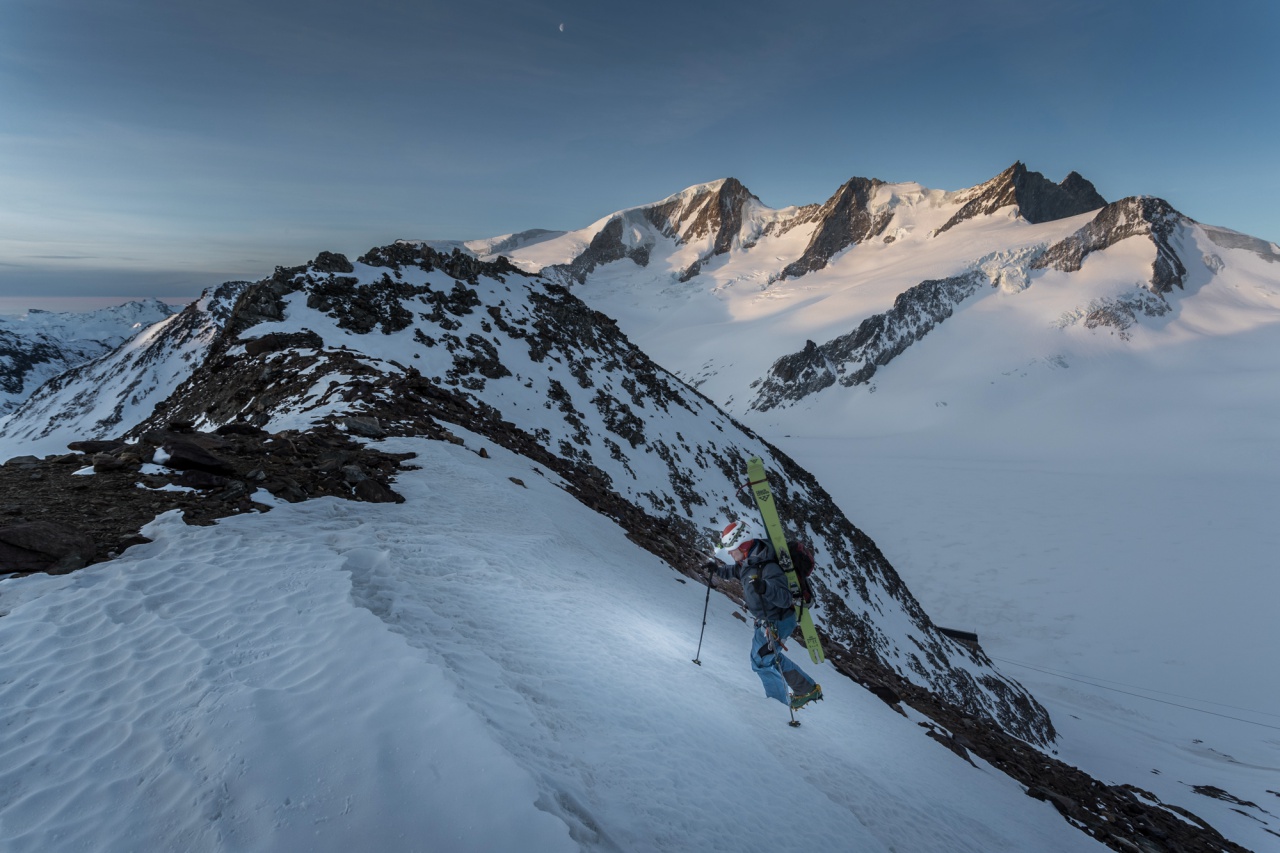 The two functions of a base layer: keep you warm, keep you dry
Mid layers:
These form the majority of the insulation worn while moving, and also have a role to play in moving sweat further away from the body, by wicking it off the outer surface of the base layers. These can take many forms, but the most common would be a fleece jacket (such as the Hemming or Magni), but in exceptionally cold conditions a down or synthetically insulated jacket (such as the Thorsen or Elvar) can be a substitute. Depending on the weather, you may choose to wear this layer as your outer layer in more moderate conditions.
The same principle can be applied to leg wear, where a pair of soft shell trousers (such as the Vali) can be worn either on their own or as part of a more comprehensive layering system. Genrally, due to the high output nature of ski touring, a pair of soft-shell trousers worn on their own (or over base layer leggings) will provide the best balance of breathability and wind-resistance.
All our mid layers are treated with a DWR (Durable Water Repellent) finish to help light precipitation bead off.
A huge part of ski touring is flexibility, and so carrying or wearing two lighter weight mid layers may be a better option than one thick one, depending on the temperature.
Outer layers:
Often referred to as 'hardshells', these form the final layer of protection against the most severe weather. They feature waterproof-breathable membranes (such as our exclusive SKJOLDR™ fabric) in order to keep the wearer dry while allowing any sweat vapour to escape. All our hardshell jackets (such as the Bergelmir or the Odin) feature hoods that can be worn over a helmet, but equally can be worn comfortably over an un-helmeted head. The Odin also features pit zips to help minimise overheating if it is worn on the uphill.
All our overtrousers (the Vanir salopette and Vanir LT trousers) feature 3/4 length side zips, to allow them to be put on over boots during the day should the weather turn, along with built-in gaiters to minimise snow ingress. The Vanir are a better choice in very cold conditions, as the high bib adds a further layer of insulation to one's core.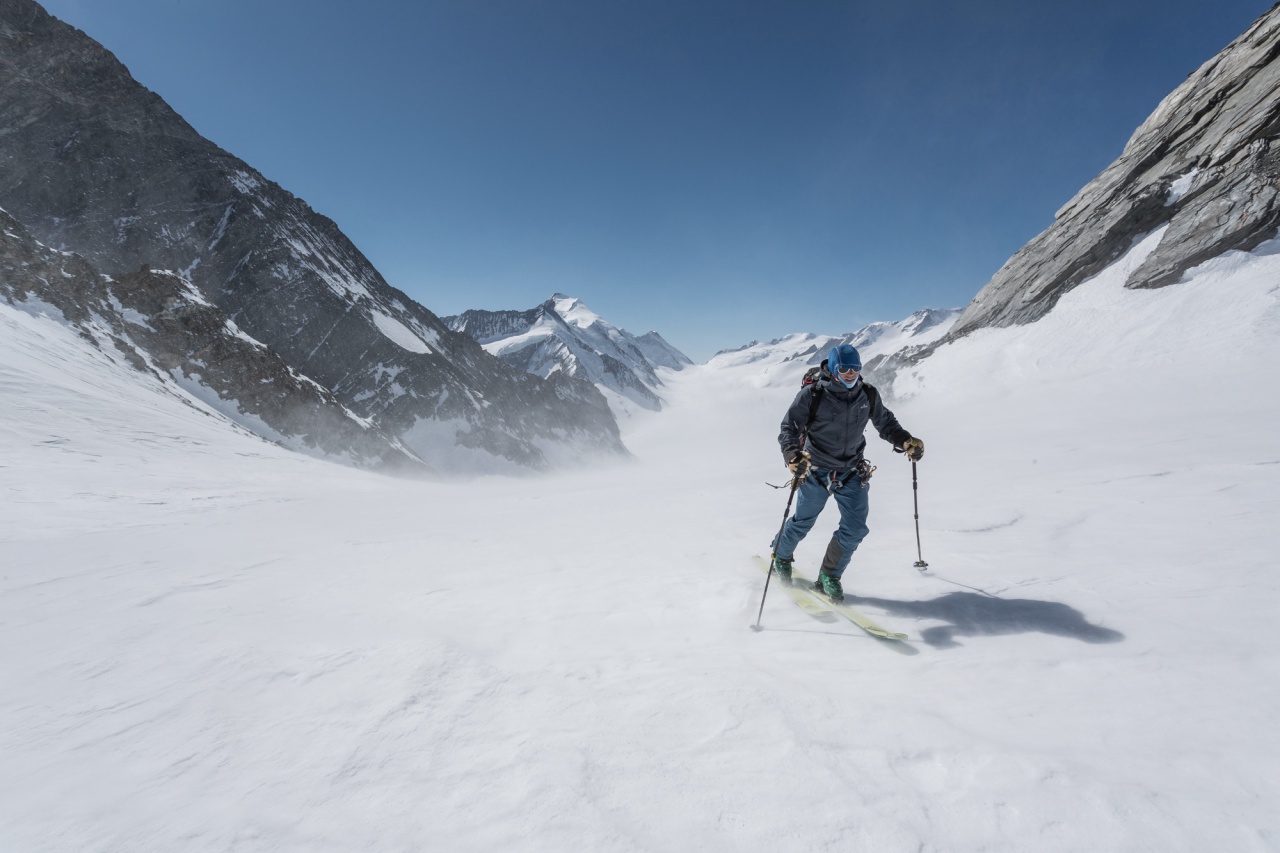 The final layer of protection against the weather
The 'transitions' jacket:
This can be worn both while stationary at transitions, and also worn beneath the hardshell jacket on the descent. This can be insulated with down or synthetic fills, with the final choice being influenced by the prevailing weather conditions. Generally, down is better suited to cold dry conditions, as damp down loses much of its warmth. However, jackets such as the Fenrir are filled with hydrophobic down, which are far less susceptible to damp and will remain warm even if the jacket has become a little wet. The Elvar jacket, with its synthetic fill, would also make an excellent option (also in slightly warmer conditions such as the spring), as it has a slim fit allowing for easy layering, and is both warm and windproof enough to be worn as an outer layer if required.
Extremities:
The head, hands and feet are the most likely areas to become extremely cold, and they require a little extra consideration. Wearing a hat (or hood/helmet) will keep your head warm and also reduce overall heat loss, which will help keep the other extremities more comfortable.
Gloves are often awkward, as it is essential to find a balance between warmth and dexterity. They can be split into ascent and descent; gloves worn while skinning can be extremely light, depending on the weather, whereas skiing gloves can be a little thicker and preferably waterproof. The best ski gloves will feature more insulation on the back of the hand rather than the palm, as this gives insulation without impinging on dexterity. It is often worth carrying a pair of oversized gloves to wear over other gloves in case of cold hands or the weather turning for the worse. These gloves should be generously sized, to allow them to be put on and taken off easily, and preferably waterproof (as this also ensures that they are windproof). Overall dexterity can be compromised here, as their primary purpose is to maintain warmth.
Good quality ski socks with a high proportion of wool in their construction will make a huge difference to keeping feet at a comfortable temperature; but in true extremes a pair of custom-made insulated boot liners are ideal.
For more information on our products, please follow the links below:
- Base layer
- Mid layer
- Outer layer jackets and trousers

To take the guesswork out of your layering, we have a range of bundles available, all at a 10% discount:
- Bundles