Jöttnar hard shell clothing is built to provide lasting waterproof protection, although it does require some basic care to maintain optimum performance. Whether washing or re-proofing, the steps below will help you keep your shell items in peak condition and we answer some frequently asked questions.
This advice applies to our SKJOLDR™ fabric, and is applicable to all of our hard shell jackets and legwear.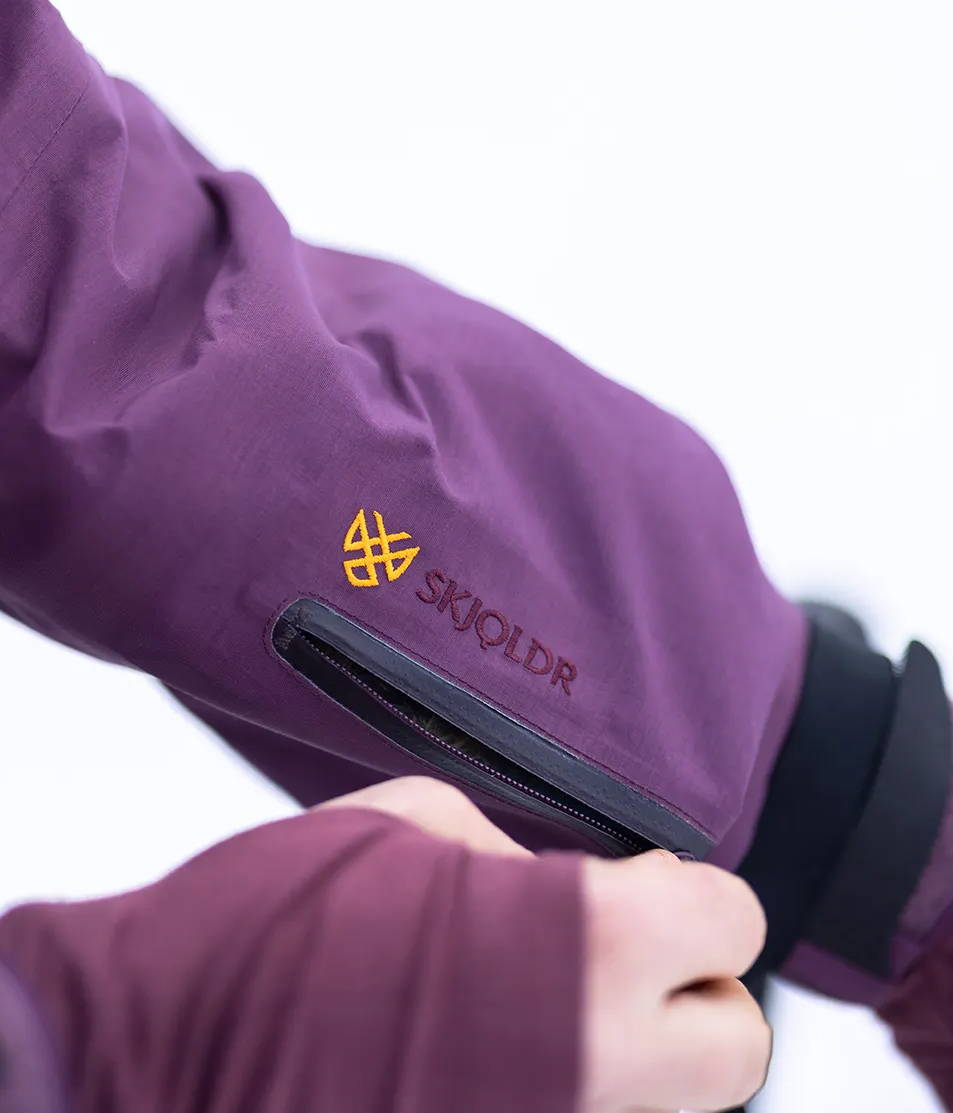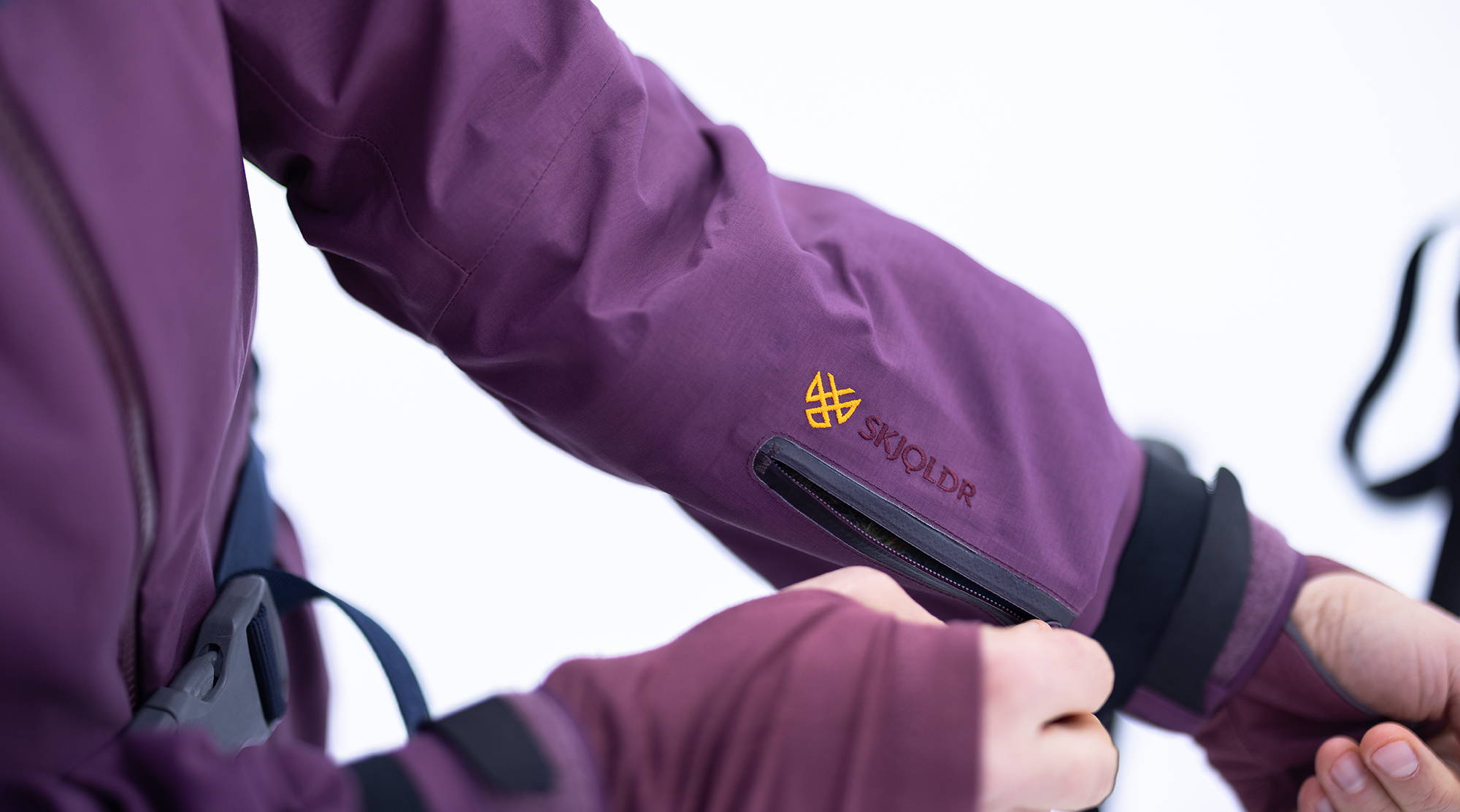 First, close all zips and fasten any straps or cuff adjustors.




Place in the washing machine with a small amount of liquid detergent and run on a warm cycle (40 degs). Do not use powder detergent or any products containing fabric softeners, bleach or stain removers.

On completion of the wash cycle, remove your garment and either line dry or tumble dry. If tumbling, select a medium heat and dry for 30-40 minutes.
Re-waterproof a hard shell jacket
First, wash your garment as per steps 1 and 2.

On completion of this first wash cycle, place the recommended amount of specialist DWR re-proofing liquid into your washing machine and run a second warm cycle (40 degs). Jöttnar recommends Storm re-proofing products.

On completion of this second wash cycle, for best results, tumble dry your garment on a medium heat for 30-40 minutes. If a tumble dryer is unavailable, line drying as normal will suffice.
Repair a hard shell jacket
Make sure the area around the tear is clean and free of dirt and debris.

Flatten out the jacket on a table and weigh it down to free it of any creases.

Measure out how much tape* you'll need over the tear. Try and leave a couple of centimetres of tape around the tear.

Round of the corners of the tape. This will make sure it sticks to the fabric more effectively and won't catch.
Re-join the fabric at the tear as best as possible. (see A)

Remove the back of the tape and apply it to the tear, smoothing it from the middle outwards to remove any air bubbles or wrinkles. (see B)

Rub the tape with your fingers to heat up the adhesive. This helps it stick more effectively. (see B)

Leave your jacket for at least 24 hours and allow the tape to settle. You can now wear your repaired jacket.
*We recommend McNett Tenacious Tape, which is a durable waterproof repair tape.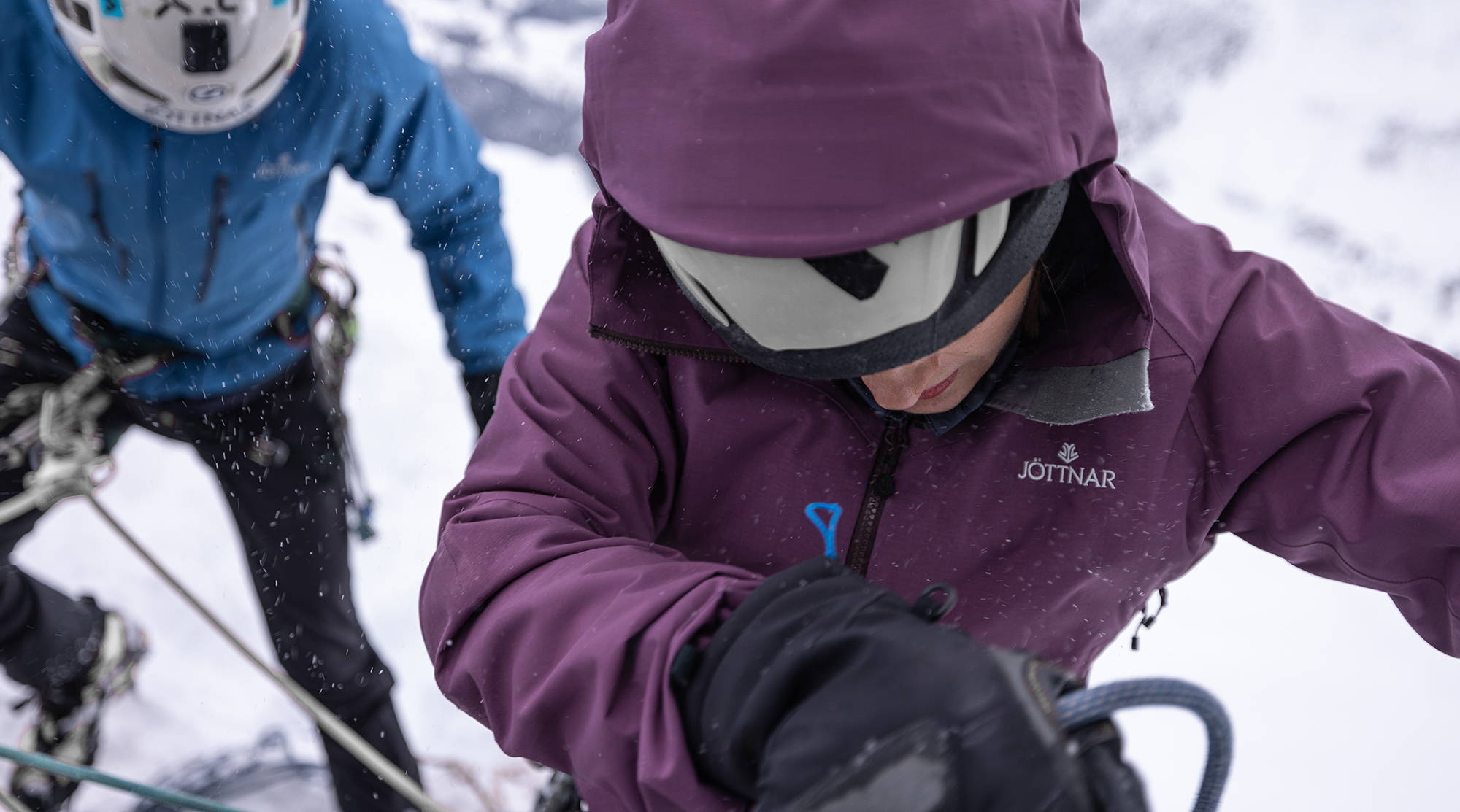 What is hydrostatic head (HH)?
The Hydrostatic Head of a jacket refers to how waterproof the face fabric is. It is normally associated with a number (e.g, 20,000HH) which refers to the amount of water in millimetres that can be placed above the fabric before water ingress begins to happen.
What is the breathability rating?
The breathability rating of a jacket refers to how much moisture vapour can be transferred from the inside of your jacket, to the outside environment. Any fabric with a rating of 20,000 or higher will allow vapour from your body (sweat) to be released into the outside environment when taking part in more active tasks. This in turn creates a more comfortable environment inside the jacket for the wearer.
How can my jacket be both waterproof, and breathable?
Waterproof membranes like SKJOLDR™ work by layering a very thin sheet of polyurethane (PU) between a face fabric and a nylon backer. The PU membrane is covered with holes which are small enough to prevent water ingress, but large enough to allow sweat vapour to escape. The face fabric and backer's primary role is to protect the membrane from damage, which would compromise the waterproofing of the garment. All the seams are sealed with waterproof tape, to prevent water ingress through the stitch holes.
All of our shell products have a Durable Water Repellency (DWR) treatment applied to their outer surface during manufacture. This is designed to repel rain, dirt and other contaminants from the outer of the jacket and helps the garment to breathe. The effectiveness of this treatment wears off over time and with use but can easily be restored. See "How to: Re-waterproof a hard shell jacket."
The denier of a fabric refers to the density of the fibres used in the face fabric of a jacket. Jackets can range from between 15 denier (very thin) to sometimes upwards of 400 denier (unnecessarily thick for active technical clothing). Varying by intended end use, the correctly-chosen Denier will offer rugged protection from the outdoors, without compromising the weight or comfort of the garment in question.
What is the difference between 2 and 3 layers?
A 3-layer jacket is comprised of the outer face fabric, the membrane layer (SKJOLDR™), and then a backing liner. Having three layers ensures that the membrane in the middle is protected from both sides and lasts a much longer time.
A 2-layer jacket gets rid of the backing liner, usually in order to make a more lightweight product. This will still be an effective jacket, but will not last as long as its 3-layer counterpart.
What is the difference between hard shell and soft shell?
A hard shell jacket is a combination of waterproof, windproof, and breathable. They are designed to keep the worst of the elements out, whilst making sure you stay comfortable.
A soft shell jacket is usually not waterproof, but highly breathable, windproof and designed to keep you warmer. They tend to be water-resistant (able to withstand light rain showers and snow, but not prolonged rain), and made from a generally softer, more comfortable fabric.
What is a water-resistant zip?
The YKK Aquaguard zips that we use on our garments are practically waterproof, as stated by YKK themselves. However, there will always a be a slight ingress of water during driving rain. For this reason, we do not call them waterproof and so describe them as water-resistant instead.
Tapes seams allow a garment to maintain its waterproof capabilities. Stitching creates thousands of tiny holes in the fabric, allowing water to slowly soak through if un-taped. A taped seam seals stitch lines using heat and pressure, leaving the garment without any holes and thus making the seams waterproof.
At Jöttnar we never go below 13mm tape on our seams and use 15mm on the majority of our garments. In our opinion anything below 13mm is insufficiently robust.