PHOTOGRAPHER CHRIS CARTER INTRODUCES A GERMAN FRIEND TO THE DELIGHTS OF HIKING THE WILD SCOTTISH MOUNTAINS.
I met a guy called Joe in New Zealand three years ago and we embarked on multiple South Island epics that we still talk about on a regular basis. After showing him my Knoydart photographs from earlier in the year I somehow managed to convince him to come to Scotland, selling him a wilderness similar to that of the Kiwis' but with 'better weather and less bugs'. Meeting this bold (and largely false) statement with scepticism, the line that swung it in the end was the fact it's about 11,000 miles closer to his native Germany. Flight booked.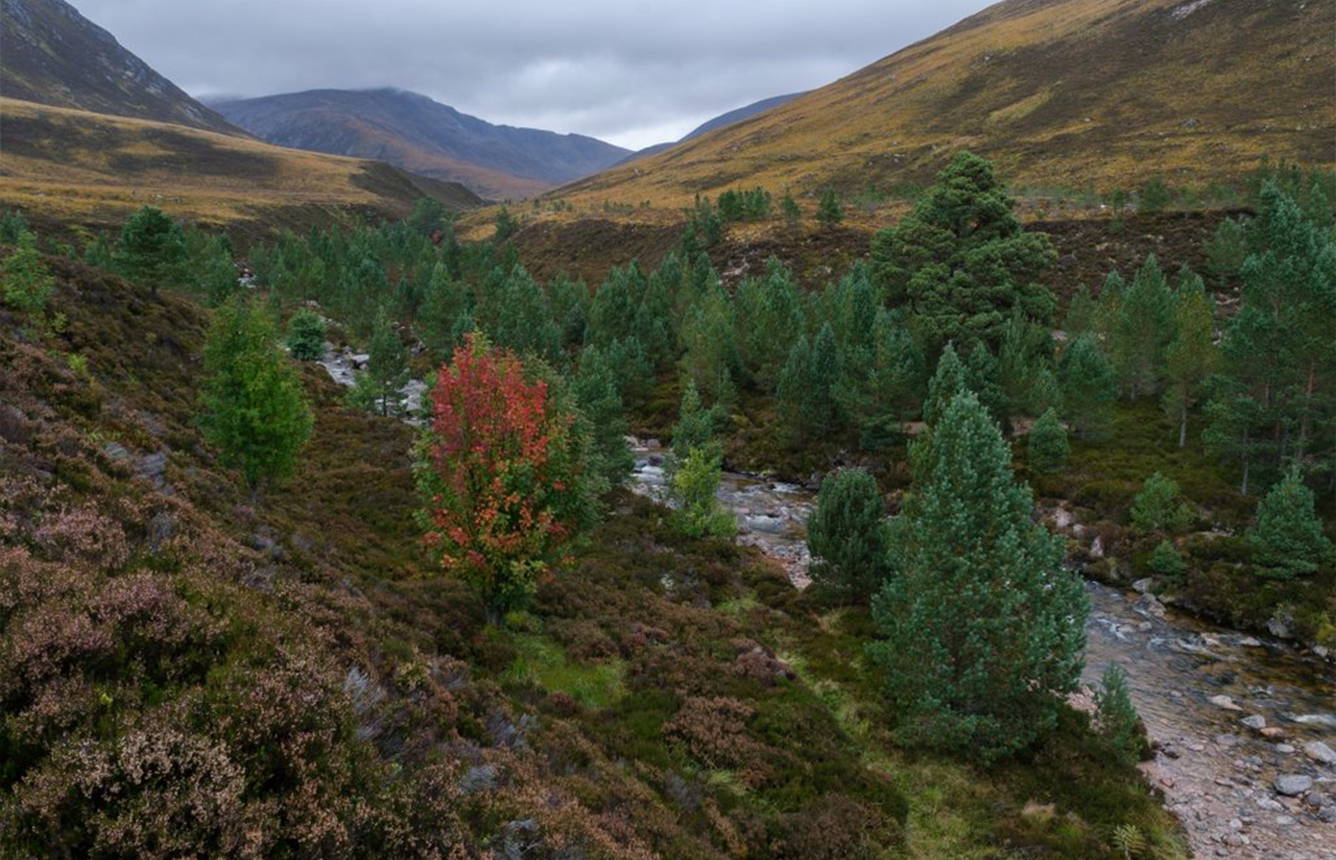 Autumnal colour starting to make an appearance alongside Luibeg Burn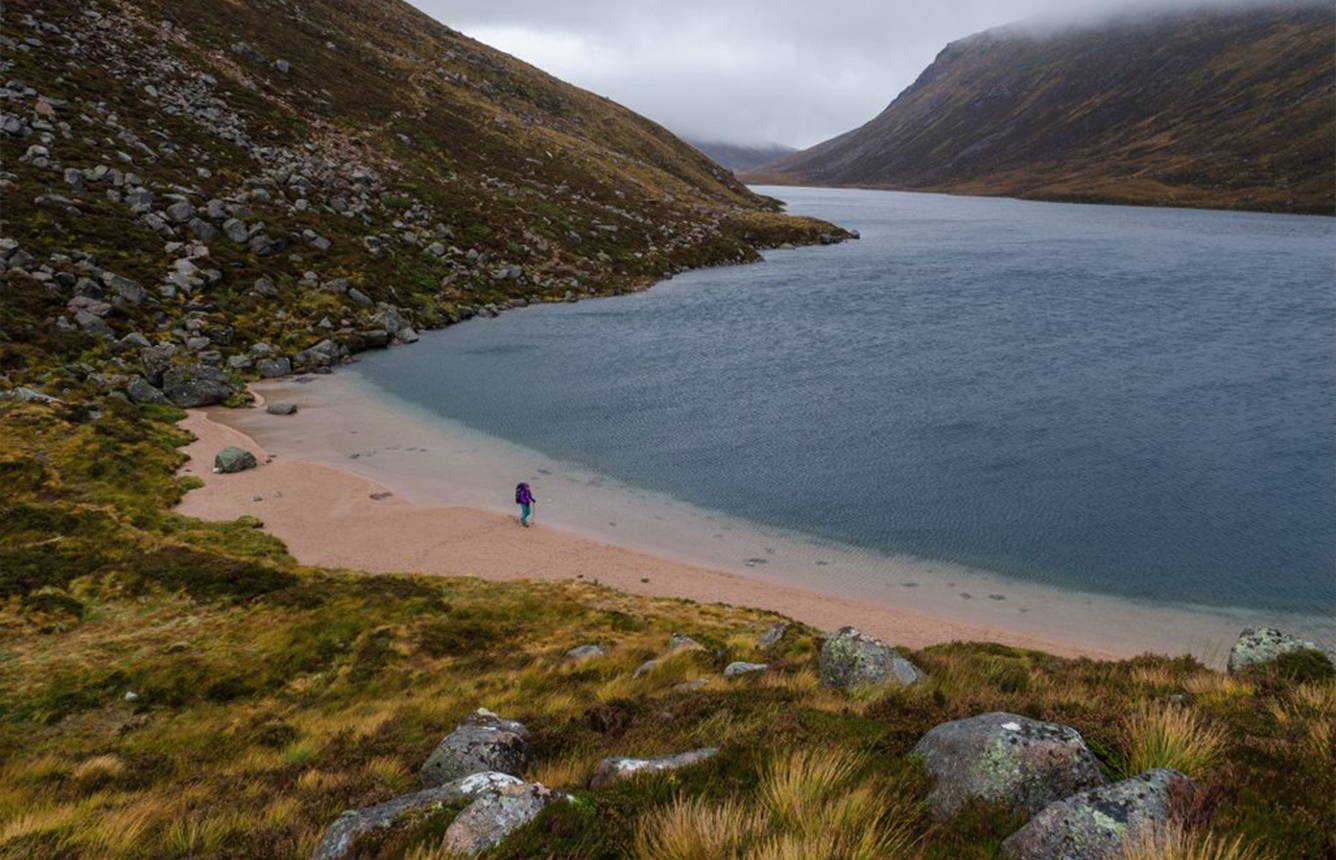 A beautiful small beach on Loch Avon
We'd initially planned a route through the Fisherfields in mid-late September, taking advantage of more settled weather and the midges dying off for the season - theoretically at least. It would show him one of, if not the best part of Scotland for wilderness adventure and for me personally it meant getting to the one place that's eluded me for the 25 years I've been visiting. Perfect!
Instead Joe found himself arriving during a huge front bringing torrential rain, 90mph winds and thunderstorms across much of Scotland for the entire week. Perfect.
Determined not to be put off, we switched the west for the east and settled on the Cairngorms as our new destination.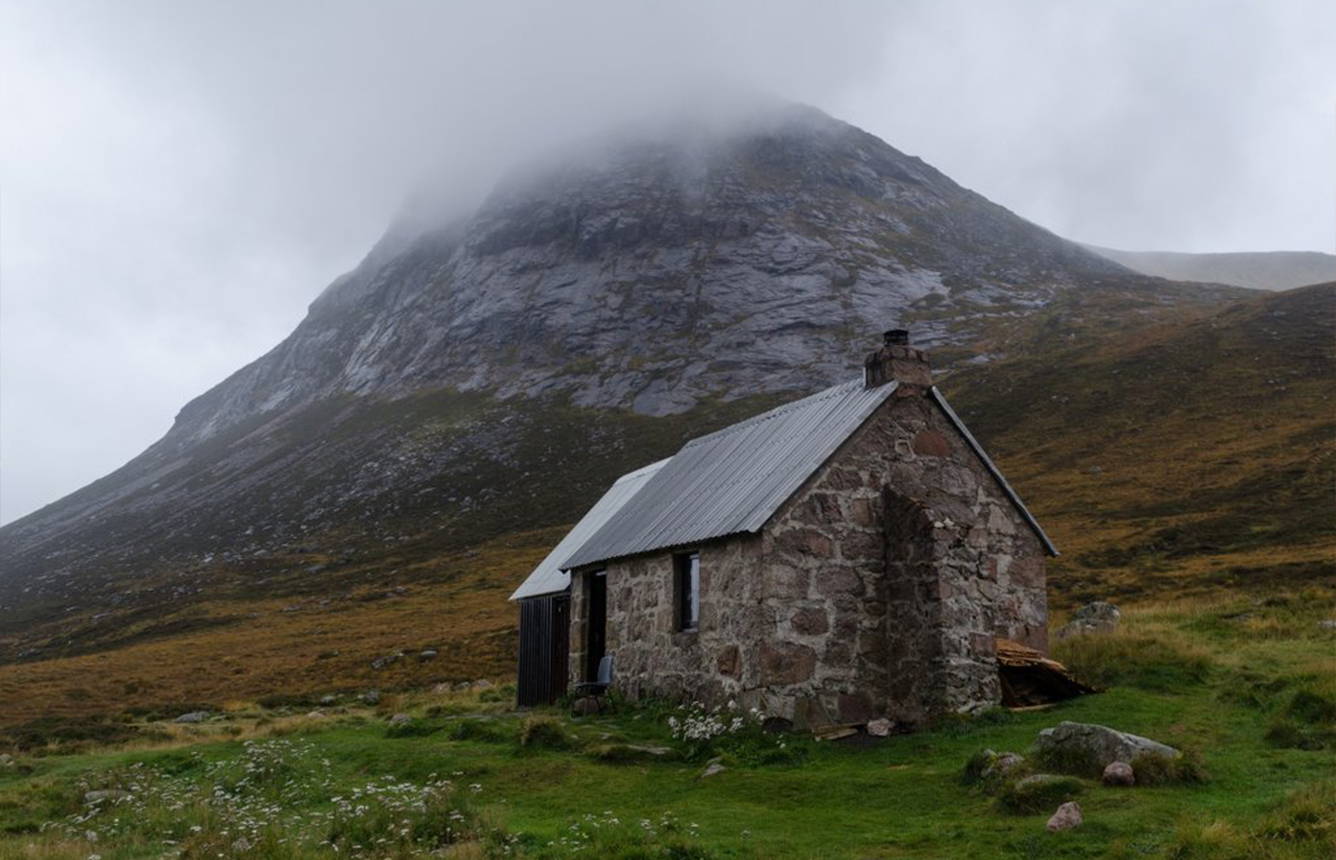 Corrour Bothy on the morning of day two
On all my trips I try to include variety, but since we'd traded the main band of rain for the strongest winds instead, the route planning became more about protecting ourselves. The first few days the rain was forecast to be at its worst, but the wind at its lowest - only 65mph - so putting our heads together we planned a three to four day loop starting at the Lin of Dee. The first few days we'd take in the Lairig Ghru and Ben Macdui before heading past Loch Ethachan and Loch Avon to the refuge at 'The Fords'. The theory being we'd be blown up and over Macdui and down to relative shelter by Loch Avon. On days three and four we'd resigned ourselves to just getting out by whichever means necessary, depending on the weather, as we both knew that with no means to check for an update it would be sod's law that the worst weather was probably yet to come.
"the feeling of satisfaction upon completion is always greater than usual if one really pushes oneself"
Never shying away from a challenge and after successfully completing days one and two as planned, we somewhat boldly opted to walk back to Loch Etchachan over Beinn Mheadhoin.
Upon getting to the summit, the weather was indeed absolutely horrendous.
Reaching the Loch absolutely battered, the sight of the Hutchison Memorial Hut through a brief clearing in the clouds was the obvious choice, but Joe with his new found feeling of immortality had the taste for Scotland. On we pushed over Creagan a' Choire Etchachan towards Derry Cairngorm, frequently hunkering down as we struggled to stand up in the wind as it pushed 90mph.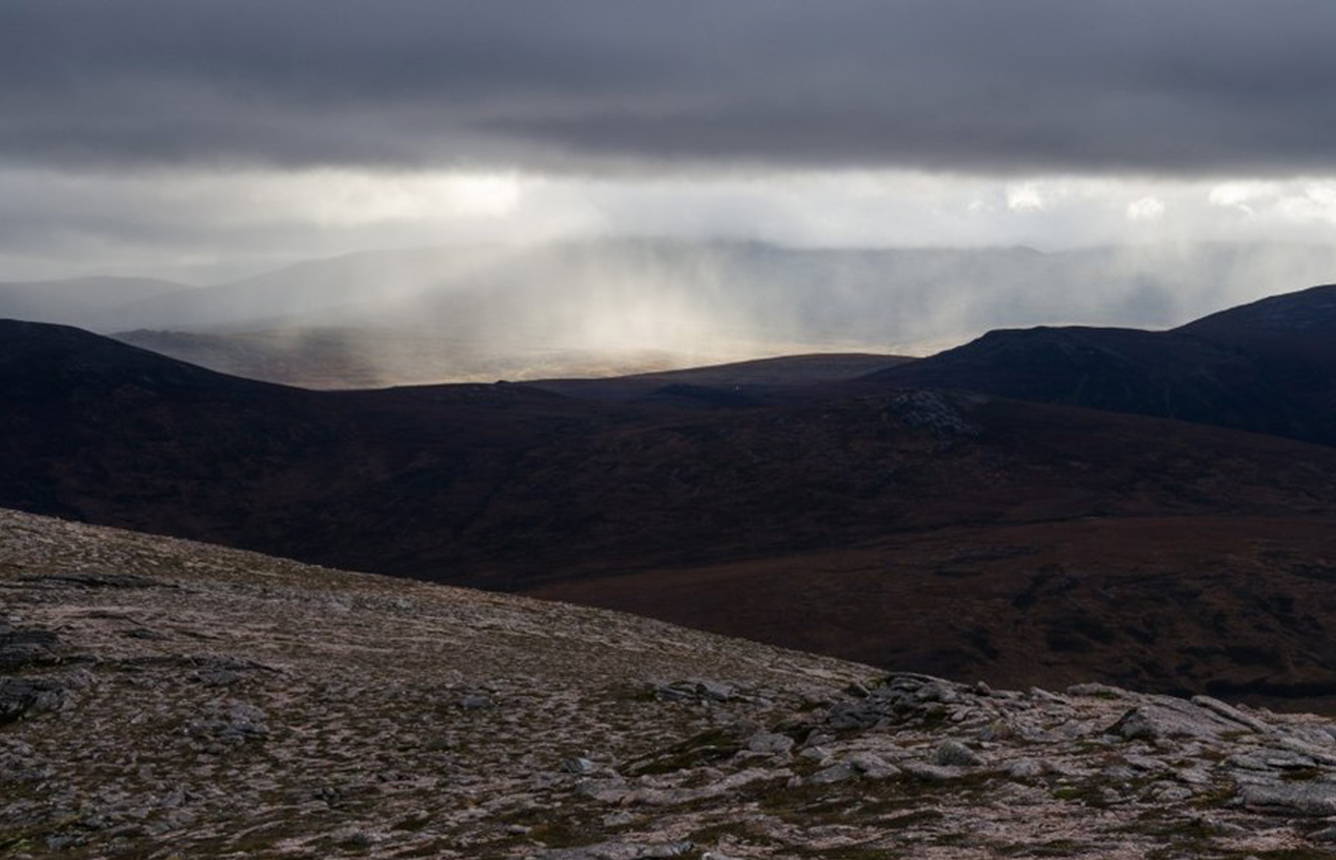 Rain showers over the Southern Cairngorms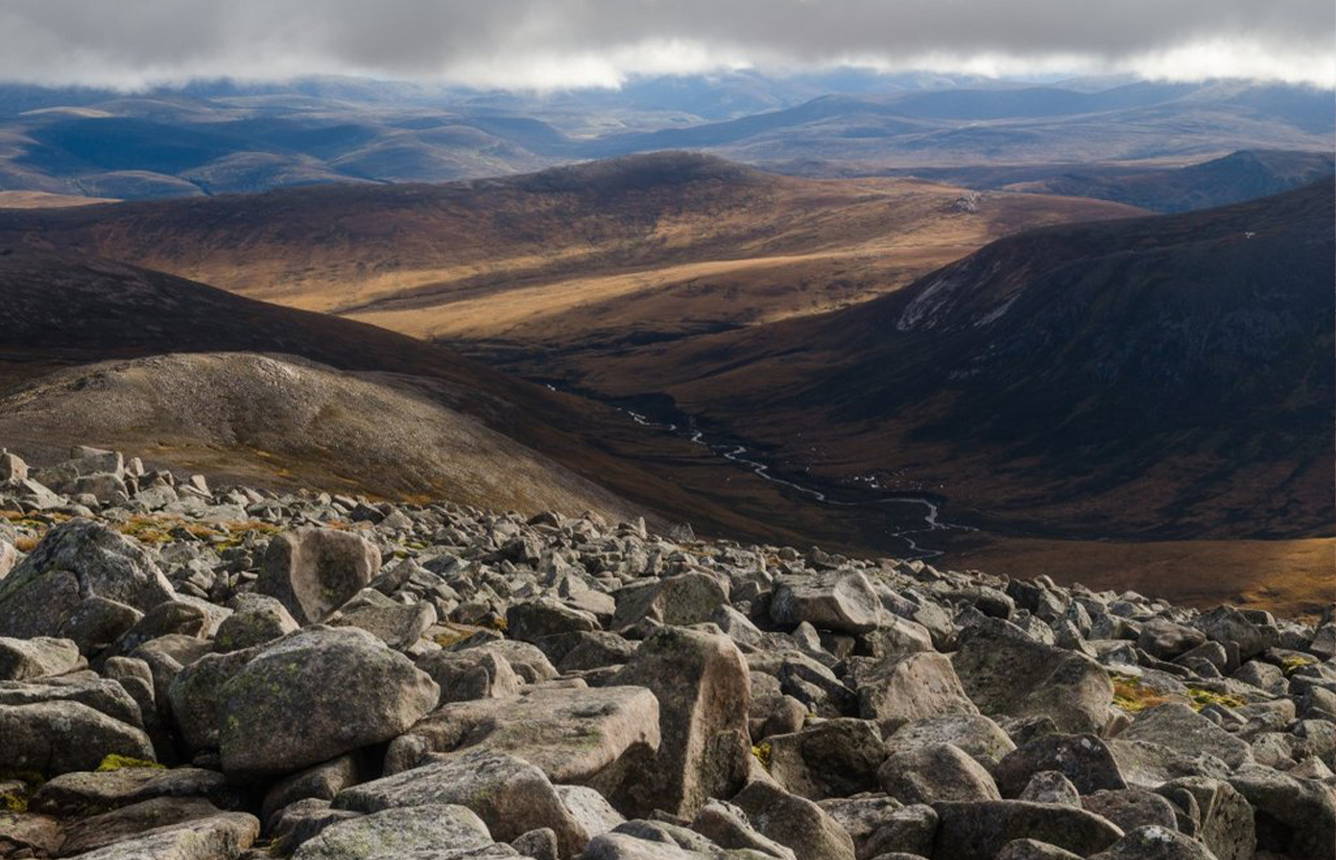 Sgor Mor and the Luibeg Burn in beautiful early evening light
With it seemingly getting stronger and stronger - my hat blowing off and into the atmosphere from beneath two fixed hoods - we started to regret this monster leg, until for the first time in two and a half days the cloud base lifted and we were rewarded for our efforts with magnificent views across the Cairngorms.
The fact I managed to get any photographs at all is a victory in itself, but the feeling of satisfaction upon completion is always greater than usual if one really pushes oneself - even if it's just a hill walk. And in Joe's case, he couldn't have really asked for a more complete first time Scottish experience. In actual fact the trauma of deciding what to do and where to go ended up being a blessing in disguise, as is usually the case.
It's always a bit of a risk entering hills this wild in these conditions, but with a carefully planned route and a bit of luck and experience we pulled one out the bag.
Chris Carter is a regular contributor to Legend, particularly with his hiker's eye for the landscapes of Scotland, and his stoic acceptance of the Scottish Experience.
Find out more here.